Actually, I'm not too sure if this is Miki or Maki ... I _think_ it's Miki. If I'm wrong, please correct me, thanks!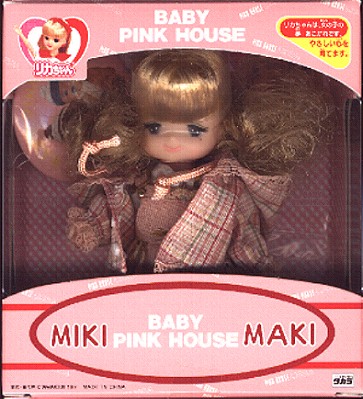 Anyone who is a Jenny or Licca collector probably already knows about Pink House, but for those who don't I'll explain. Pink House is a popular brand of clothing in Japan (and Taiwan too,they like almost everything from Japan!). They specialize in the frilly, romantic look ... sort of country (not country western). Personally, their stuff kind of reminds me of a patchwork quilt. Don't get me wrong -- I like patchwork quilts, but I could never imagine actually wearing one.
I'd seen Pink House Licca and Jenny dolls, and I must say I didn't like them at all ... they seemed way to overdressed to me. They had either too much hair or too many ruffles. Then one day I saw the Miki and Maki dolls, which I thought were very cute and much better dressed than their older sister.
I love the details on the clothes -- the shirt and dress are separate, and the dress even has those little metal adjuster things on the straps. The teddy bear fabric of the dress is adorable, and the jacket is also very cute, even though the hood is almost the size of the doll itself (probably to accomodate ALL THAT HAIR!). The shoes are little pink and white high tops. All I can say is "awwww ..." =)
The doll also comes with a Pink House button and a mini Miki card.

As you can see, I debox everything =)